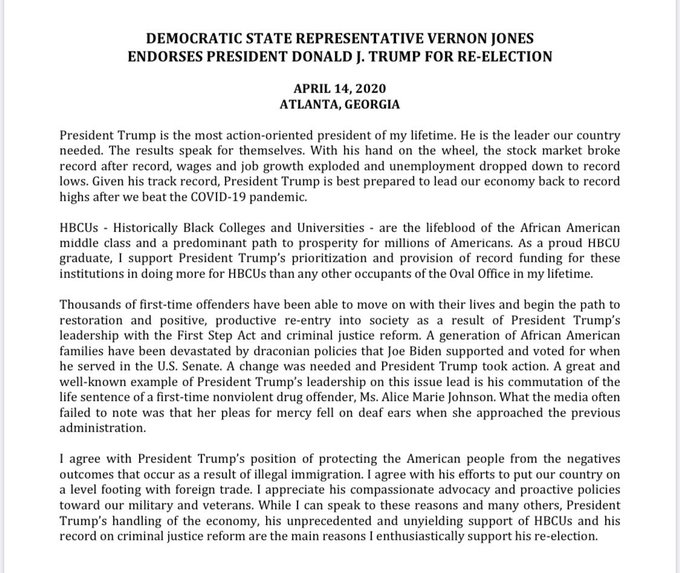 Vernon Jones (born October 31, 1960) is an American politician who served as a State Representative in the Georgia House of Representatives from 1993 to 2001 and 2017 to 2021. A former member of the Democratic Party, Jones was Chief Executive Officer of DeKalb County, Georgia, from 2001 to 2009.
Jones was a member of the Georgia House of Representatives from 1993 to 2001, before serving as Chief Executive Officer of DeKalb County from 2001 to 2009. He unsuccessfully ran for the U.S. Senate in 2008. After unsuccessful runs for the United States House of Representatives (2010) and DeKalb County Sheriff (2014), Jones returned to the Georgia House of Representatives in 2017. In April 2020, Jones announced his endorsement of President Donald Trump for re-election, and spoke at the Republican National Convention on his behalf.
A former Democrat, Jones became a Republican in January 2021 following his vote for Trump in 2020.
Born in Laurel Hill, North Carolina, Jones grew up on a farm in rural North Carolina. His father was a veteran of World War II who worked in a mill; his mother and siblings worked on the family farm. Jones was the fifth of six children, with four brothers and a sister. He attended North Carolina Central University in Durham, North Carolina, and became a member of the Kappa Alpha Psi fraternity there, before graduating with a B.A. in business administration in 1983. Jones also completed the John F. Kennedy School of Government's Executive Program.
Jones began his career in the telecommunications industry, first working with MCI Communications (now MCI Inc.) and later BellSouth Corporation. At BellSouth, he was part of a team that established wireless communications in Montevideo, Uruguay. Jones has served on the DeKalb Board of Health, the Atlanta Regional Commission, the DeKalb Library Board, the DeKalb Pension Board, and the Board of Visitors for Emory University and North Carolina Central University.